The cuisine of Tenuta Montemagno's restaurant, La Civetta sul Comò, is led by Executive Chef Giampiero Vento, who proposes a menu composed of dishes made by combining the great Piedmontese tradition with a pinch of creativity and innovation.
For his early spring recipe, artichoke confìt on roasted cauliflower cream, red cow parmesan mousse and candied lemon, Chef Vento has selected a seasonal product typical of an area just a few kilometres from Monferrato: the spiny artichoke of Albenga.
In the preparation of this recipe, Vento has added a fundamental ingredient, for him: memory, the call of memories of home cooking, with the aromas and flavours of good home cooking, of barbecues with friends… in short, all that baggage of extremely pleasant feelings and emotions that one wishes to replicate in one's own preparations to donate to the palate of guests new elegance and interpretation.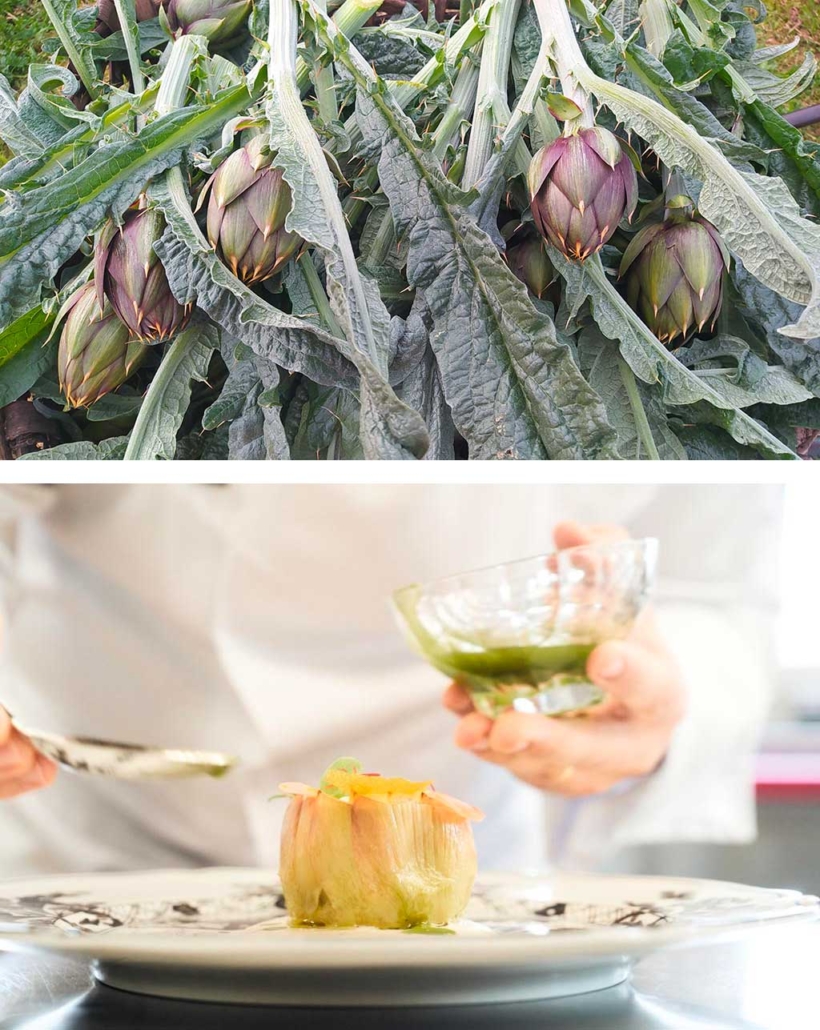 This appetiser dish has as its main protagonist, as mentioned, the artichoke, a vegetable that goes very well with first courses, fish and meat, but which the chef wanted to make the main subject of his recipe.
The first step towards confit preparation is to marinate the artichoke in plenty of oil, garlic and herbs. It is then steamed for an hour at about 70°, to avoid overcooking and to maintain a good consistency of the artichoke. The passage to the blowtorch to gently burn our 'protagonist' begins to add those flavours linked to memories such as the smell of grill and charcoal. Together with the artichoke we also burn some herbs, first and foremost rosemary, which will give a special touch to the flavours of the final dish.
The first touches of elegance are then added to the dish through the mousse of red cow parmesan cheese aged for 36 months.
Further ingredients that give a unique and personal style to the dish are the caramelised lemon peel, with sour and sweet notes at the same time to contrast the bitterness of the artichoke. The completion of the dish is rendered with a previously roasted cauliflower cream, which adds the final touch of elegance to this starter that is proving to be a great success with guests at the relais.
The wine to go with this dish is, according to our sommeliers, a strong and powerful white. We therefore recommend Tenuta Montemagno's pure Timorasso Solis Vis. A structured white, capable of supporting courses typically accompanied by great red wines.
You can purchase Solis Vis from our online shop. So those who wish to try their hand at this preparation can complete the experience with pure Timorasso. On the other hand, we will be happy to welcome those who would like to taste the dish and wine directly at the estate, contacting us at reception to book a tasteful stay in Monferrato.

https://blog.tenutamontemagno.it/wp-content/uploads/2023/04/Foto-2.jpg
1024
683
Rossana Gulli
https://blog.tenutamontemagno.it/wp-content/uploads/2021/04/tm-relais.png
Rossana Gulli
2023-04-18 10:07:54
2023-04-18 10:07:57
Artichoke confìt on roasted cauliflower cream, red cow parmesan mousse and candied lemon